Peter Pond newsletter :: April 2018 :: #51


Peter Pond's pistol
IT'S GOOD TO CHECK YOUR MESSAGES ONCE IN A WHILE
Yes, I don't do that as often as I might because usually the most recent messages are almost a year old and ask Peter Pond genealogy questions in which I don't claim to be an expert, just about his life and times. But, lo, here it is almost mid-April and I see I have one written March 28, to wit:
DAVID JONAS
Arizona
I received Peter Pond's pistol on consignment in my shop. I deal in antique and collectible firearms and received this old flintlock that has been converted to percussion.
It is inscribed on top of the barrel 'Peter Pond His Pistol'. It also has the NWS logo and Albany on the side plate.
If you are interested to know more about it please email me.
March 28, 2018 21:38:20 (GMT Time)
This certainly bore checking out. But the way my Guestbook is set up now, there was no way to find his email with which to reply. So some googling took place to find David Jonas, guns, in Arizona and I came up with Old World Guns LLC. So I tried that and found it was him. That's his wife Patty in the picture. David said he got the pistol from a longtime collector near his shop in Camp Verde which is between Phoenix and Flagstaff. He showed it to a few fellow antique gun experts and they confirmed it certainly looked like an authentic 18th century pistol. He also googled Peter Pond and found my website and contacted me to hopefully get the word out.
It's rather decorated with sort of metal filigree saying NSW which most likely deals with North West Company. And there is his actual name along the barrel. David asked is there any mention in Peter Pond lore where he used a gun. I noted the duel in Detroit in which the poor fellow adversary was unfortunate and nobody prosecuted Peter Pond. But that took place in the early 1770's before he left for Canada to spend his glory years. But the episode at La Ronge around 1783 in which he allegedly shot and killed Jean Etienne Waden might be possible since it was shortly after NWC was founded and he could probably afford to have a firearm made with his name on it. But we know Peter Pond was never convicted of that crime either.
You will see presently that the bidding for this pistol starts at $3,495. David noted that if it wasn't converted from the original flintlock the bidding could have started more around $10,000. But percussion pistols were not invented until the 1820's which is after Peter Pond died in 1807. With flintlock, people had to deal with the fact they only worked about 70 percent of the time, David said. Percussion worked better.
Here's another factoid. When gun collection came into vogue around the 1950's there were gunsmiths who would convert old flintlocks turned percussion back into flintlock to make them more valuable. But that never happened here.
So please check out this item up for auction and see if you're convinced.
You will note there are 25 pictures of the pistol at different angles. The picture with his name is the 13th seen at the top of this page. I have also notified a respected antique gun dealer near me that the pistol is up for auction. That's mainly in the selfish hope that if this dealer comes to possess it, I could stop by and get to handle it.
So put in your bid, and I will certainly be following up on what happens from here.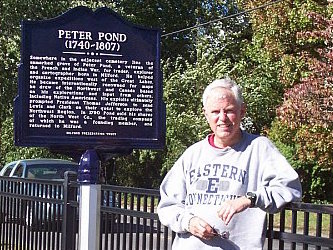 Au revoir,
Bill