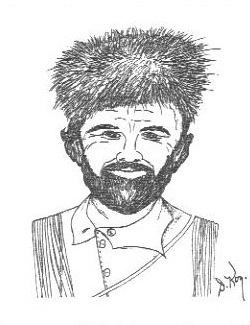 Please use the links to obtain these books to help support this website.
PETER POND SOURCES
Butler, Beverly. The Fur Lodge, Dodd, Mead. 1959.
Campbell, Marjorie Wilkins. The North West Company St. Martin's Press, New York, 1957.
Cooke, Edgar D. "Peter Pond: Forgotten Developer of the North West," Alberta Historical Review. Winter 1974.
Chalmers, John W., editor. The Land of Peter Pond. Occasional Publication No. 12 , 1974, Boreal Institute for Northern Studies, University of Alberta, Edmonton.
Daniells, Roy. Alexander Mackenzie and the North West. Barnes and Noble, New York, 1969.
DeVoto, Bernard. The Course of Empire Houghton Mifflin Company, Boston, 1952.
Duckworth, Harry W., editor. The English River Book: A North West Company Journal and Account Book of 1786. McGill-Queen's University Press, Montreal, 1990.
Gates, Charles M., editor. Five Fur Traders of the Northwest. Minnesota Historical Society, St. Paul, 1964.
Gilman, Carolyn, Woolworth, Alan R., research. The Grand Portage Story. Minnesota Historical Society Press, St. Paul, 1992.
Gingras, Larry. "The Beaver Club Jewels." The Canadian Numismatic Research Society. 1972.
Greenfield, Bruce, R., "Creating the Distance of Print: The Memoir of Peter Pond, Fur Trader." Early American Literature, 2002, Vol. 3, pages 415-438.
Gough, Barry M. First Across the Continent: Sir Alexander Mackenzie. University of Oklahoma Press, 1997.
Hayes, Derek. First Crossing: Alexander Mackenzie, His Expedition Across North America and the Opening of the Continent, Sasquatch Books, Seattle. 2001.
Huck, Barbara. Exploring the Fur Trade Routes of North America: Discover the Highways That Opened a Continent. A Time Traveler's Guide, Heartland Publications, Winnipeg. 2000.
Innis, Harold Adams. Peter Pond, Fur Trader and Adventurer. Irwin and Gordon, Toronto, 1930.
Innis, Harold Adams. The Fur Trade in Canada. University of Toronto Press, Toronto, 1999.
Kelsey, Vera. Red River Runs North! Harper and Brothers, New York, 1951.
Lavender, David. Winner Take All: The Trans-Canada Canoe Trail. McGraw-Hill Book Co., New York, 1977.
Lavender, David. "First Crossing," American West Magazine, September 1977.
Mackay, Douglas. The Honourable Company. Bobbs-Merrill, New York, 1936.
Mackenzie, Sir Alexander. Voyages from Montreal on River St. Lawrence through the Continent of North America to the Frozen and Pacific Oceans; in the years 1789-1793 with a preliminary account of the Rise, Progress and Present State of The Fur Trade of That Country. Vol. I, New York, W.B. Gilley, 1814.
McDonald, William N. III, FSA (Scot). "A Scot to Remember: Alexander Mackenzie, Explorer," Highlander Magazine. November-December 1980.
McDonald, Bill. "Peter Pond." Canoe Magazine. March 1984.
Mirsky, Jeannette. The Westward Crossings: Balboa, Mackenzie, Lewis and Clark. University of Chicago Press, 1946.
Nettleton, De Witt Baldwin. Peter Pond. Read at a meeting of the Daughters of the American Revolution at Milford, Connecticut, July 6, 1939. Presented during Milford's Tercentenary Celebration.
Newman, Peter C. Caesars of the Wilderness, Company of Adventurers Volume II. Viking, New York, 1987.
Parker, James. Emporium of the North: Fort Chipewyan and the Fur Trade to 1835. Alberta Culture and Multiculturalism/Canadian Plains Research Center. 1987.
Pond, Mrs. Nathan Gillett. Introductory in "Journal of 'Sir' Peter Pond - Born in Milford, Connecticut, in 1740." The Connecticut Magazine, Vol. X, No. 2, Hartford and New Haven, 1906.
Wagner, Henry B. Peter Pond: Fur Trader and Explorer. Yale University Library, 1955.
Whyte, Jon, "Peter Pond, His True Confession." Stories from Western Canada: a selection by Rudy Wiebe, Macmillan of Canada, 1972.
Work Projects Administration. History of Milford, Connecticut, 1639-1939. Milford Tercentenary Committee, 1939.
Vail, Philip. The Magnificent Adventures of Alexander Mackenzie. Dodd, Mead and Company, New York, 1964.
Van Kirk, Sylvia. Many Tender Ties: Women in Fur-Trade Society, 1670-1870. Watson and Dwyer Publishing Ltd., Winnipeg, 1980.
Au revoir,
Bill