Peter Pond newsletter :: December 2017 :: #49
MCDONALD ADDS TO PETER POND SCHOLARSHIP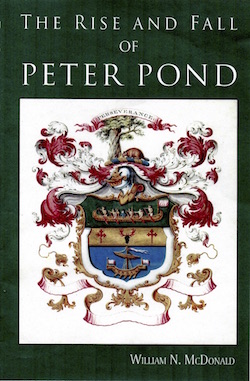 enlarge image
I am pleased to announce that the fourth book has been written on Peter Pond, this one the first historical novel about him, and it's by me. It is entitled "The Rise and Fall of Peter Pond" dealing with his glory years in Canada where he grew to major prominence but then plunged to a downfall due to fateful circumstances. The other books, as you probably know, have been non-fiction biographies written by Innis, Chapin and Gough, respectively. My book, a paperback, has been published and is ready to be ordered now. The cost is $20, plus $3 for shipping and handling. To have it mailed to you, mail me a check for $23 and I will send it right out. My snail mail address:
---
Bill McDonald
32 Elizabeth Street
Milford, CT 06460



THE THREE PETER POND MONUMENTS OF PRINCE ALBERT, SK
There have been three monuments in Prince Albert through the years, all on the north side of the Saskatchewan River in the same vicinity of three archeological digs done in the 1960's. The digs uncovered various artifacts (belt buckles, gunflints, arrow heads etc.) showing where Peter Pond conducted a trading post with others 1776 to 1778. It was called Sturgeon Fort since it was within a mile of the outlet of the Sturgeon River. Peter Pond Society Newsletter 1 relates how the site was originally pinpointed with the help of airplane surveillance in 1942. This was followed the installation of a commemorative cairn with much ceremony in 1955. Peter Pond Society 22 discusses the archeological work there in the 1960's. The monument lasted until the early 1970's when river incursion forced its removal. It was replaced by a second one (which I saw after my 1988 canoe trip) that lasted until the early 1990's.
Then, according to one local resident, Larry Zepp who founded the Peter Pond Historical Association to get the third monument installed, curious things happened. Area residents started complaining about unsavory characters gathering around the monument at the end of Peter Pond Road and leaving discarded needles scattered due to drug abuse. As if the monument was a magnet for these characters, it was simply pushed into the river by the local government, according to Zepp. This led to Zepp and others forming the PPHA to lobby Parks Canada for a new monument that would not be located so close to the river. Their efforts paid off when the current monument, this time a modern square design instead the earlier pyramid-shaped ones, was installed in 2003 a quarter mile back from the river and visible from Zepp's house some 100 yards away.
Today the old site of the monument at the end of Peter Pond Road still attracts unsavory people and needles which has resulted in the road being closed, according to news reports.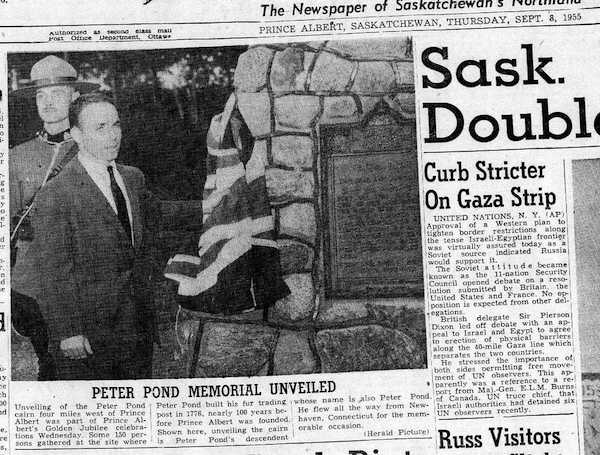 Peter Pond of Milford at 1955 original monument dedication



second monument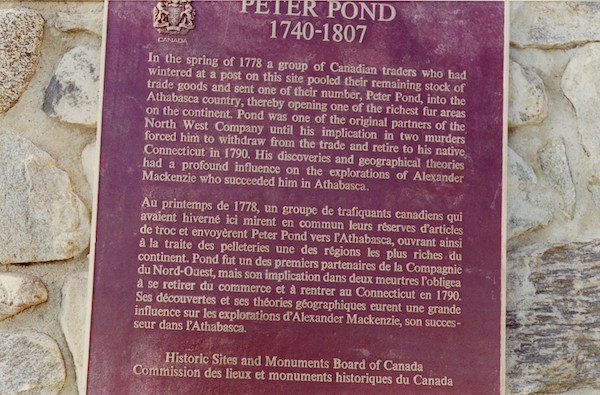 second monument plaque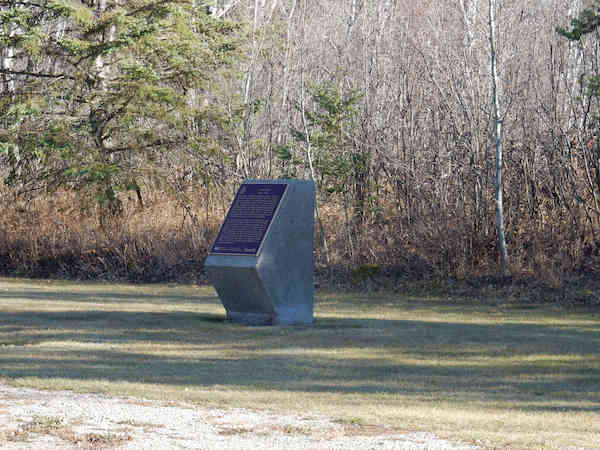 third monument from a distance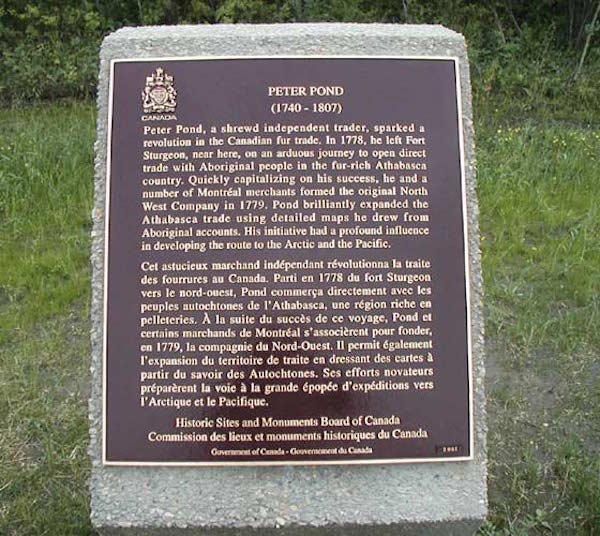 third monument close-up.
PHOTOS OF PETER POND BEAVER CLUB MEDAL TO BE IN NEW CASTNER BOOK
Non-fiction author Brian Castner contacted me through the Peter Pond Society website for permission to use the two photos of the Beaver Club medal to be part of a new book about his canoe trip down the Mackenzie River. There is also a section on Alexander Mackenzie and Peter Pond Society to add historical context. He has written on various subjects through the years. The Amazon citation on the book set for publication March 13, 2018. Amazon also has a Brian Castner Page.
PETER POND THE ELDER COMPARED TO PETER POND THE YOUNGER
I have found interesting articles about Peter Pond Society the 18th century explorer and his 20th century namesake who was the one who attended the 1955 monument dedication while a 22-year-old divinity student. Their similarities in personality and temperament are striking. See if you agree. I may have mentioned these similarities in past newsletters, but now here are others pointing out specific traits. I call the two PPE and PPY.
Here is commentary on the personality of PPE found in a magazine article by Gloria Fedirchuk, in the Arctic Journal published by Arctic Institute of North America, University of Calgary, Calgary, AB. It says: "Pond's character has been described as volatile, occasionally explosive, morose, suspicious, unsociable, proud, sensitive, sometimes impetuous, and intractable. Others have described him as a true adventurer, of sterling character, courageous, industrious, aggressive, and extremely competent."
PPY grew up in Milford, attended Yale Divinity School, and was ordained in First Congregational Church, Milford. He became heavily involved in the 1980's Khmer Rouge terror in Cambodia to the point that he adopted 16 Cambodian children to add to the eight he already had. He is described by W. Courtland Robinson as part of a 1989 Providence Journal article cited in Wikipedia as "one of those individuals who is single-minded of purpose that I think a lot of people find either intimidating or aggravating or downright bizarre. He has put himself on the firing line consistently, not just in front of bullets, but on the political firing line, with the US, the United Nations, volunteers, the Thai government … Peter's philosophy has basically been, 'To hell with the system.' If it is not serving these children, go around it, subvert it, do anything you need to, even if it means breaking the law, if it serves the cause. His means are not always politic or even polite, but he is so totally devoted to serving the Cambodian people, particularly the Cambodian children, I think he must be forgiven …". An elaborate Providence Journal obituary on his 2000 death by then Rhode Island attorney general Sheldon Whitehouse (now U.S. senator and a Peter Pond Society member) is in Peter Pond Society 7 "R.I.'s Schindler of the Killing Fields".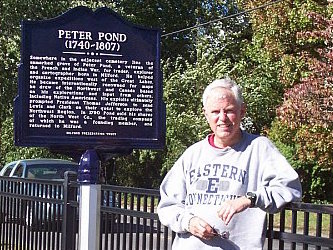 Au revoir,
Bill