Peter Pond newsletter :: November 2005 :: #22
This has been quite a year what with computer problems resulting in my getting a new one. Still more new information has come up on Peter Pond in the interim so let's get to it.
BEAVER CLUB MEDAL PHOTOS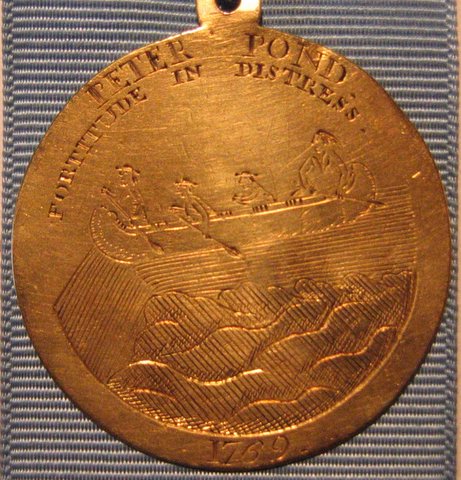 enlarge image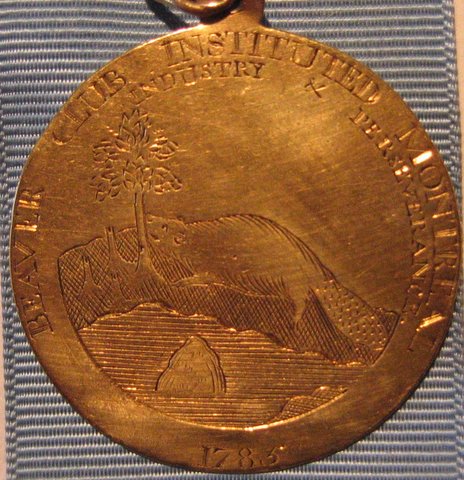 enlarge image
It's my pleasure to give you two fine close-up photos of Peter Pond's Beaver Club medal, front and back. I am attaching it with 2 photos of a 1962 Peter Pond-related archaeological dig (see next article) with the intent of including all in an appropriate website spot eventually. I need a new web master, but that's another story. Peter Pond's Beaver Club involvement, and how members' medals were made to serve as nametags, has been discussed in several newsletters already. That included mentioning the current holder of Pond's medal wishes to remain anonymous, a Peter Pond Society member who keeps it as a cherished family heirloom. The medal is one of the few still in private hands and not a museum.
STURGEON FORT ARTIFACTS, SK
Peter Pond Society member and Connecticut State Archaeologist Nick Bellantoni copied and sent a 128-page article ("The Return of Peter Pond: Summary and Analysis of Cultural Resources From Sturgeon Fort, Saskatchewan," by Sharon Thomson, Cultural Resources, Parks Canada, MANITOBA ARCHAEOLOGICAL JOURNAL, Vol. 12, No. 2, 2002). It discusses a series of digs (1962, 1966, 1995) at the Sturgeon Fort site near Prince Albert, SK, on the north branch of the Saskatchewan River. The upshot is that many artifacts ie trade goods like beads, knives, belt and shoe buckles along with gunflints, arrowheads and animal bones have been stored in boxes and bags over the years, first in the United States, then repatriated back to Canada. I suggest it's time to exhibit them someplace, preferably Peter Pond's home state of Connecticut.
What do you think? Would you come to see them? It would certainly call for a second gathering of Peter Pond Society.
Bellantoni has offered to write to Canadian authorities, citing his official title, to discuss ways to get them here. The people who have them stored in Parks Canada offices in Winnipeg are sympathetic but say it involves a lot of paperwork. I am told only one item was ever displayed, a ring, the rest, never. I have no experience with such displays. But judging this involves raw material, it would probably take time and work to create text and graphics to make an attractive exhibit. If and when the stuff become ready to travel, you'll be the first to know.
A little background…As you saw in Peter Pond Society1, Owen C. Furniss found the site in 1942 which led to the cairn being placed there in 1950, named the Peter Pond National Historic Site. But river erosion has taken its toll over the years. Most of the artifacts (numbering to date about 11,000) were unearthed in 1962 (see 2 photos) in a project led by Dr. Norman F. Barka, an archaeologist from the College of William and Mary, Williamsburg, Va. He conducted another dig in 1966. After that he kept what is called the Sturgeon Fort Collection as personal property at his Virginia home until Canadian officials saw fit to "repatriate" the material to Parks Canada offices Winnipeg where it remains today. Apparently between 1966 and 1995, when Sharon Thomson of Parks Canada conducted the last dig, little more was found. That's probably because some 15 feet of the riverbank was washed away during the interim. The commemorative cairn itself was moved back from the river's edge in 1974 and totally replaced when erosion threatened again, as per a previous newsletter, in 2003. All I can gather is that cairn met the same fate as many artifacts over the years, claimed by the river, hence the new and slightly reworded one (currently among website photos).
Needless to say, reading Thomson's article has sent me off in different directions. One was to call Dr. Barka, now retired, in Virginia and ask him how he got interested in Peter Pond. All he said was that I should read the report before he'd comment. I did learn he was directed to the site by Dr. Thomas Kehoe, a friend when both were pursuing doctorates at Harvard. I researched Kehoe and found he was an esteemed archaeologist in Saskatchewan in the 1960's before working at the the Great Plains Museum in Montana and Milwaukee Museum, currently retired in that city. I got the shorter Barka report ("Archaeology and The Fur Trade: The Excavation of Sturgeon Fort, Saskatchewan," Norman F. and Anne Barka, National Historic Parks and Sites Branch, Parks Canada, Department of Indian and Northern Affairs, 1976) thru interlibrary loan. It detailed a list of artifacts found, noting the site was only occupied 1776-80 by a group of traders including Peter Pond "it's most famous inhabitant." This was also the furthest west of any white man's settlement of the time, until he pushed into the Athabasca territory from here to put the Northwest Company on its feet as stern competition for venerable Hudson's Bay Company.

aerial view of the Sturgeon River

dig pits
The attached photos from the Barka report show an , the fort's namesake, has changed locations over the years. This made it hard for me to find the cairn after an all-night drive from Fort McMurray to Saskatoon and the plane home in 1988. I thought if I found the river, I'd find the cairn. But they were not right next to each other. The other photo shows all the dig pits. edging right up to the river.
I researched Thomson and found a fascinating article by her wondering if a site should remain historical even though much of it has washed away, using Peter Pond's Sturgeon Fort as her example. It's entitled "Life on the Edge: The Cultural Value of Disappearing Sites," CRM Online: Cultural Resource Management, Vol. 20, No. 04, Parks Canada: Archeology and Aboriginal Partners. It tells of Thomson's experience with the site.
Peter Pond IN FORT MACMURRAY TODAY
Jeff Morrice of the daily FORT MCMURRAY TODAY sought me out, we had a nice phone interview, and had the story below published in the June 10, 2005 issue on page one. It was just below the main story on a rash of forest fires in the area. There was no link to the online edition for the story so Jeff emailed it to me. He also snail mailed the newspaper itself. Headline: "Peter Pond's legend lives on," with a picture of the top of my website home page showing the Viehman art of him coming through the door with the dogs.
"Almost everyone in Fort McMurray has heard of Peter Pond. But there's more to his infamy, according to a man looking into the explorer's past. There's a shopping centre named after the fur trader, known for being the first non-Aboriginal to paddle the Clearwater and Athabasca Rivers. He's also credited with discovering the oilsands after seeing bitumen ooze from the ground and used to patch birch bark canoes. For many years there was a local hotel with his name (it's now the Travelodge), and a cairn still stands on Franklin Avenue recalling the explorer at the site of the now-demolished Peter Pond school (in front of Furniture Pluss). That's not all. In Milford, Conn., where Pond was born, he has a fan club. The Peter Pond Society, founded by American Bill McDonald in 2000, has regular newsletters and a website. Mcdonald said he got into the Pond business out of his love for paddling. "I've lived in Milford since 1979 and I've always liked canoeing," said McDonald, who's a feature writer at the Connecticut Post in Bridgeport. "I heard about this guy, and he's from the old Milford family -- the Ponds. He's better known in Canada than the States. "Very few people in town care about it, but I've been able to put together a theory that without Peter Pond there would be no (Meriwether) Lewis and (William) Clark (the famous American trailblazing explorers who crossed the U.S. from 1803-06). I had time and I'd gone on wilderness canoe trips before, but I had a goal of retracing Pond's footsteps in Canada. So I found an outfitter who took me on a canoe trip and we went down the Clearwater River." That trip was back in 1988. After researching the man and learning more of the history, McDonald dreamed of writing a book about Pond. While that dream never came through, McDonald did start the Pond society, beginning with the website he says generates a fair bit of interest. "It seems to be (popular). Since I re-did it in 2002 there's been 13,000 hits," McDonald said. "A lot of it is Canadian kids who are doing projects on Peter Pond. Very few American kids, but a lot of Canadian kids." Along with the website, McDonald also puts out a newsletter to 110 members, including a few in Fort McMurray -- most notably Art Avery and Frances Jean. Pond's legend includes a dark side. He was accused of killing two people in Fort Chipewyan, but acquitted. "He was implicated in two murders, but they couldn't pin it on him," McDonald said. "He was feared, he was a big guy -- a big tough brute -- and that's just the way he got things done. That's another reason he's not that popular." The worst of the allegations regarding Pond is the recent belief by some that he was responsible for the spread of smallpox to Aboriginals in Western Canada. Some suspect that Pond had infected blankets with the disease and then given them to local people as gifts of good faith. One study even followed the spread of smallpox through Aboriginal communities and placed Pond at the scene of each outbreak along the rivers he travelled. "That's been a subject of debate on my site for about five years," McDonald said. "Every responsible historian that I know says 'why would Peter Pond want to do that?' You know, wrap up smallpox in blankets and give it to them. That would not make good business sense." While Pond is mired in controversy, McDonald finds it adds to his intrigue. "I think it makes it more interesting because (Pond) was definitely controversial," he said. "He had kind of an erratic personality if you will -- a short temper." McDonald has one more dream for his society -- finding where Pond is buried. "Here in (Milford), he has no grave marker," McDonald said. "The crowning achievement was when I brought in this archeologist and we thought we knew where Pond was buried, but we were wrong." While his first hunt for Pond's final resting place turned up nothing, McDonald hasn't given up hope of finding the 1810 grave site. "Yeah, we kind of petered that trail out. I have an idea of where it is. But nothing concrete enough to go out and pick up a shovel." - - - On the Web: peterpondsociety.com"
INTERESTING LINKS
I am currently between web masters and know of no other way to present these interesting new links. So consider your membership beneficial in getting a jump on those surfing the web.
SAVE THE BOREAL FOREST
I need to mention this in light of my 1988 Peter Pond canoe trip through this same massive jack pine forest that separates the plains from the tundra. It was so pristine that our drinking water came from the Clearwater River itself. I'm not sure if you can get away with that today. I refer to the September-October AUDUBON Magazine article entitled "The Final Frontier" by Jeff Hull. It discusses how lumbering and other development is causing five acres of the boreal to fall a minute, endangering 300 species of birds that breed there. The boreal is the largest intact terrestrial ecosystem in the world. The word comes from Boreas, Greek god of the north wind. The article ends with urging readers to cancel catalogue subscriptions, shop online instead and buy recycled tissue and printing paper. It says 17 billion catalogues-or 59 for every man, woman and child in the United States-are mailed annually, despite an average response rate of only 2.5 percent. Get more information from: Canadian Boreal Initiative and Boreal Forest Network.
RESEARCHING PETER POND AND MY FAMILY
I end with a personal note, how researching Peter Pond for stated reasons has led me into researching my own background, and the wondrous journey it has also become. I guess I was turned off by all the lore seemingly directed my way in growing up…there are family history books published on both sides of my family… McDonald ancestor landed in Falmouth, Va. 1746…Berry ancestors go back further to the Dutch in Manhattan. But the research skills that came out of the fascination with Peter Pond have put me into a family research mode. It started with the McDonald reunion that took place in Winchester, Va. June 10-12, 2005, the first in 75 years, attended by close to 100. I am named after a Confederate officer who I have reason to believe was part of the same Battle of the Wilderness on May 8, 1864 where my mother's grandfather won the Medal of Honor. Both were gravely wounded, but lived. William N. McDonald is buried in Berryville, Va., Lee Nutting in Bridgewater, Nova Scotia.
There is a further Canadian connection, showing how the fur trade apparently helped save ancestral lands in Scotland.
I "e a passage from one of the McDonald books ("The Glengarry McDonalds of Virginia," by Flora McDonald Williams, George G. Felter Company, Louisville, 1911). It's from Chapter XXIX, "Glengarry Today," by Rev. Peerce N. McDonald, Flora's nephew and my great uncle, on visiting the ancestral castle. It's still there, I've been there, on Loch Garry between Glencoe and Fort William.
"The place is now owned by an English family named Ellice. Mr. Ellice told me that his family had made their money fur-trading in Canada, and that on one occasion when the Indians had attacked the home of his ancestors, the Glengarry men who were then living in Canada came to their rescue and saved their lives. In appreciation for what they had received at their hands, these Ellices bought Glengarry and have ever after that made it their home. Mr. Ellice himself is a charming man, has taken a great deal of interest in the place and its people and has written a book in regard to the traditions of the place. As the old castle is in ruins he has built nearby a handsome new home and has done much to improve and preserve the estate."
Here is the reunion where you'll find a painting of the castle on the home page plus many pictures at the bottom of the links page. You'll also see the Ellice home has become the Glengarry Castle Hotel, about a quarter mile from the ruins. I know of no Ellice book about the place.
I assume the Ellice referred to is Edward Ellice Jr. who became Hudson's Bay Co. deputy governor. That would make him son to Edward "Bear" Ellice, HBC managing director who started as NWC employee, switched to HBC, and oversaw their merger in 1820. He died 1863 and is buried somewhere on the grounds. Here is an interesting article about how the Ellice chief forester's son, Archibald McDonald, grew up on the grounds and became the last HBC chief factor. Archibald's grandson, Edward Ellice McDonald Jr., became a friend of my father (William III, I am William IV, my son William V) as Clan Donald USA high commissioner while my dad was deputy high commissioner. We called him Ellice. So there you have another example of how my study of the fur trade that started with Peter Pond has gone fur circle, and hit home more than once.
The older I get, the more interested in history I get.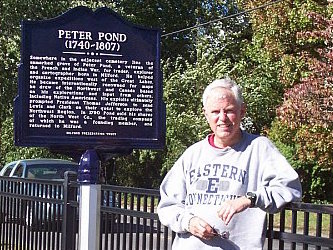 Happy Holidays to one and all.
Au revoir,
Bill