Peter Pond newsletter :: November 2015 :: #46
Peter Pond re-enaction at Milford Cemetery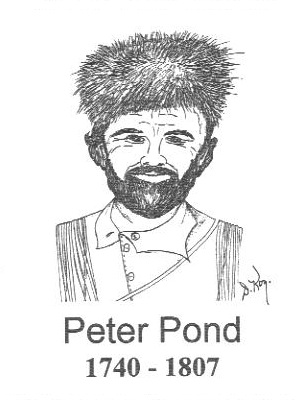 enlarge image
Hello again.
You are all probably wondering how my portrayal of Peter Pond went a little over a week ago, October 24, in Milford Cemetery. It went well. I gave my five-minute speech on the life of Peter Pond (see below) to three different groups of about 15-20 in each group, and was applauded each time. As you can see by the attached photo my costume was a minimalist, modernist version of an 18th century fur trader. I went with blue jeans, moccasins, white shirt buttoned at the top with a beaver pelt thrown over one shoulder and coyote pelt over the other, loaned by the Milford Historical Society which sponsored the event. And I was holding a paddle too which of course should go with any lore about someone involved in the fur trade.
I have included a two and a half minute youtube presentation through which you may get a flavor of the event as well as see what the Milford Cemetery looked like amid nice fall foliage. If you look closely you might quickly be able to pick out me in a telephoto shot in grey hair and dark glasses reading to a group that has their backs to the camera. I was standing by the gravestone of Mary Pond, PP's mother, who died in 1761 at age 37 after giving birth to eight children, Peter Pond being the oldest. The gravestone is apparent in the photo but not the video. Here is the video. The narrator was David Gregory speaking at his station just before mine.
So here is my speech with which I will leave you until next time. I should explain it's all in capital letters and double-spaced to make it easier to read, like broadcasters do.
DID YOU KNOW THAT LEWIS AND CLARK WERE NOT THE FIRST WHITE MEN TO CROSS NORTH AMERICA BY LAND TO THE PACIFIC OCEAN? NO. IT WAS ALEXANDER MACKENZIE IN 1793 BY WAY OF CANADA. THAT WAS 12 YEARS BEFORE LEWIS AND CLARK IN 1805. BUT I COULD HAVE BEEN THE FIRST. IT COULD HAVE BEEN ME, MY FRIENDS. IT COULD HAVE BEEN ME.
MY NAME IS PETER POND. POND IS AN OLD MILFORD FAMILY NAME. CAPTAIN CHARLES POND, MY BROTHER, HAS A NICE GRAVE STONE OVER THERE. GOVERNOR CHARLES HOBBY POND, MY NEPHEW, HAS A PROPER STONE FURTHER AWAY. BUT DO I HAVE A HEAD STONE? NO! WHEN I DIED IN 1807 I DIDN'T LEAVE MUCH MONEY BEHIND. I AM STANDING NEXT TO MY MOTHER, MARY'S HEADSTONE. WHEN SHE DIED AT AGE 37, HER 8 CHILDREN WERE ABLE TO POOL THEIR FUNDS AND PAY FOR ONE. THEY ARE EXPENSIVE, MY FRIENDS. SO I CAN SAY I AM BURIED SOMEWHERE IN MILFORD CEMETERY BECAUSE THERE IS A RECORD SAYING SO. BUT NO ONE KNOWS WHERE. AND I CAN'T HELP YOU BECAUSE I'M DEAD.
I WAS BORN IN MILFORD IN 1740, RECRUITED AT AGE 16 TO FIGHT IN THE FRENCH AND INDIAN WAR. WHEN I CAME OUT AFTER FOUR CAMPAIGNS, I WAS A SEASONED VETERAN. WHEN MY MOTHER DIED IN 1761, I STAYED AROUND TO HELP KEEP THE SIBLINGS TOGETHER SINCE I WAS THE OLDEST. BUT MY BROTHERS GOT OLDER AND MORE MATURE. MY FATHER, ALSO PETER, WENT WEST FOR THE FUR TRADE, AND I SOON FOLLOWED. OUR PATHS NEVER CROSSED. I TRADED ALONG THE MISSISSIPPI RIVER AND AROUND THE GREAT LAKES.
YOU SEE ME WEARING FURS, COYOTE HERE, BEAVER THERE. THE FUR TRADE AGREED WITH ME. I WAS BIG AND TOUGH, HAD A SHORT TEMPER AND GOT THINGS DONE. BOTH INDIANS AND WHITES RESPECTED ME, IF NOT FEARED ME. IT WAS EASY, OFFER TRINKETS, POTS AND PANS, AXES AND MUSKETS, AND RUM AS WELL, FOR WHICH THE INDIANS TRADED THEIR FURS. BEAVER WAS THE MOST VALUABLE DUE TO THE HIGH FASHION OF MEN'S BEAVER HATS IN EUROPE. YOU SEE ME WITH A PADDLE. PADDLES MOVED OUR BIRCH BARK CANOES--35-FOOTERS AROUND THE GREAT LAKES, 25-FOOTERS FOR INLAND LAKES AND RIVERS. I LIT OUT FOR CANADA IN 1775 FOR TWO REASONS. ONE WAS THAT WAR CLOUDS WERE BREWING IN THE COLONIES, AND I HAD SEEN ENOUGH WAR. THE OTHER WAS THAT FURS WERE THICKER UP NORTH, COMMANDING A BETTER PRICE.
SO I GATHERED MEN TO GO ALONG AND TRADED AROUND THE SASKATCHEWAN RIVER IN CENTRAL CANADA FOR THREE YEARS. IN SPRING 1778, I WAS RESPECTED ENOUGH TO HAVE TRADERS IN THE AREA POOL THEIR GOODS FOR MY BRIGADE TO GO WHERE NO WHITE MAN HAD EVER BEEN. THIS WAS LAKE ATHABASCA, WHICH WE REACHED IN THREE WEEKS WITH FOUR CANOES AND 16 MEN.
EN ROUTE, THE CURRENT FLOWED EASTWARD AGAINST US. BUT AFTER CROSSING THE 12-MILE METHYE PORTAGE CARRYING CANOES AND PACKS, THE CURRENT HEADED WEST. WE WERE PROBABLY NOT FAR FROM THE PACIFIC, WHICH I DEARLY WANTED TO SEE. WE SET UP A TRADING POST ON THE ATHABASCA RIVER JUST ABOVE LAKE ATHABASCA, DUE NORTH OF PRESENT DAY MONTANA, FURTHER WEST THAN ANY WHITE MAN HAD EVER BEEN.
THE INDIANS WERE GENEROUS WITH THEIR FURS, ALL THICKER AND RICHER THAN ANY WE HAD SEEN BEFORE. WHEN WE HEADED BACK EAST TO CASH IN NEXT SPRING, OUR CANOES COULDN'T CARRY ALL THE FURS TRADED SO WE HAD TO LEAVE SOME BEHIND. ARRIVING IN MONTREAL, WORD HAD SPREAD THAT MY BRIGADE HAD OPENED THE RICH ATHABASCA REGION. I EASILY ACQUIRED FINANCIAL BACKERS WHO PROVIDED MORE TRADE GOODS, CANOES AND MEN. THIS GROUP CAME TO BE CALLED THE NORTHWEST COMPANY.
BUT SUCCESS BREEDS COMPETITION. OTHER TRADERS SOON INVADED THE ATHABASCA REGION. IN 1781 I HAD A FIST FIGHT WITH ONE OF THEM. HIS GUN WENT OFF AND HE DIED. THEN IN 1787 SOME OF MY MEN GOT INTO A SCUFFLE WITH RIVAL TRADERS. A GUN WENT OFF, KILLING ONE OF THEM.
THESE TWO DEATHS UNDER ME WAS TOO MUCH FOR THE MONEY MEN BACK EAST. ALEXANDER MACKENZIE WAS SENT TO REPLACE ME, I TOLD HIM ALL I KNEW ABOUT THE AREA INCLUDING MY ESTIMATION OF BEING NO MORE THAN THREE DAYS PADDLE FROM THE PACIFIC. I GAVE HIM A MAP I HAD PREPARED, THE FIRST OF ITS KIND OF WESTERN NORTH AMERICA. IT SHOWED WHAT THE INDIANS TOLD ME WAS A RIVER FLOWING TO THE PACIFIC OUT OF GREAT SLAVE LAKE NOT FAR NORTH OF US.
I LEFT IN SPRING 1788, NEVER TO RETURN. IN 1789 MACKENZIE WENT DOWN THE RIVER OUT OF GREAT SLAVE LAKE AND FOUND IT DID NOT FLOW WEST TO THE PACIFIC BUT NORTH TO THE ARCTIC OCEAN. THIS RIVER LATER BECAME KNOWN AS THE MACKENZIE RIVER, SECOND LONGEST IN NORTH AMERICA.
BUT IN 1793 MACKENZIE TRIED AGAIN, THROUGH A DIFFERENT RIVER SYSTEM, AND SUCCEEDED. HE WROTE A POPULAR BOOK ON HIS TRAVELS AND WAS DUBBED A KNIGHT. ME? I RETURNED TO MILFORD AND WROTE MEMOIRS TO STRIKE GOLD LIKE MACKENZIE. BUT NOTHING EVER CAME OF IT. THEY WERE DONATED TO YALE UNIVERSITY IN 1947.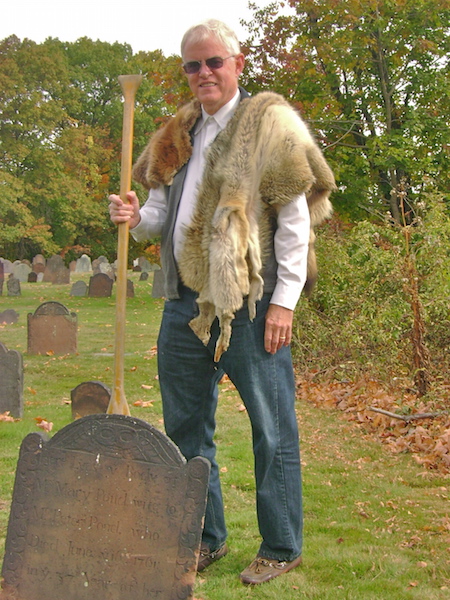 Bill McDonald as Peter Pond
photo by Daniel Ortoleva
Au revoir,
Bill