Peter Pond newsletter :: September 2014 :: #44
CHAPIN'S TALK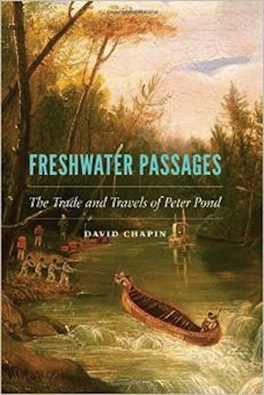 enlarge image
Responding to requests, here is a recap of David Chapin's talk to the Milford Historical Society about his recently published book, Freshwater Passages: The Trade and Travels of Peter Pond, presented Monday Sept. 22, 2014.
He spoke to an audience of about 60 to 70 people. Two people brought copies of the book for him to sign since he wasn't able to sell books himself. He explained he came to write the book by first being interested in John Ledyard, also a Connecticut Yankee from Peter Pond's era, who sailed on an exploration voyage with Capt. James Cook, He later had designs of walking across North America from the West Coast but first walking across Russia. He made it halfway across Russia before being arrested and thrown into jail on trumped up charges. He got out but never finished his trip.
David decided to steer clear of Ledyard after learning three books were soon to be published about him. But it was through this research that he came across Peter Pond and decided this is whom he should write about. Then his talk went into a power point presentation of various maps. The first was one he devised showing the extent of Peter Pond's range in North America, from Milford on the East Coast to Canada's Great Slave Lake, which he was able to reach while the Revolutionary War was still raging. Others were 18th century maps of North America that showed a void west of the Great Lakes before Peter Pond came along. Then there were Peter Pond's maps that filled in the void between the Great Lakes and the Rocky Mountains. Of course he wasn't quite sure how much further the Pacific was from the Rockies but he managed some guesses The fact remains he filled in a large void.
That was about the extent of the talk, Peter Pond and his maps, which added greatly to the charting of North America.
Finally, I am happy to report that after checking the online card catalogue several times over the summer, the Milford Library now has two copies of David's book as part of its collection: one in the stacks and another as reference in the Genealogy Room.
GOUGH ADDS TO PETER POND SCHOLARSHIP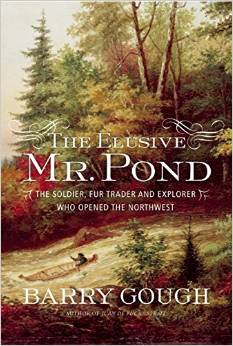 enlarge image
Former history professor Barry Gough of Victoria, B.C. has just published his own book on Peter Pond, which came out Sept. 5, shortly after Chapin's came out July 1. These are the first full-length books to come out on Peter Pond since Harold Innis' Peter Pond: Fur Trader and Adventurer was published in 1930. Now we have two in the same summer 84 years later. The title of the book is The Elusive Mr. Pond: The Soldier, Fur Trader and Explorer Who Opened the Northwest.
It's available on Amazon but not right away on Amazon.com which says the book won't be released until May 12, 2015. So go to Amazon.ca where the book is available now with the price in Canadian currency. I'm just assuming that for USA people ordering, they'll still take your money. I'd be interested to hear if there were any problems
The Amazon Canada site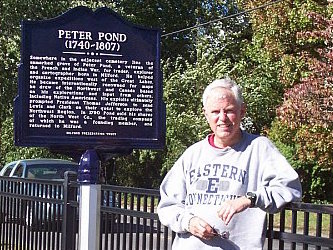 Au revoir,
Bill.