Peter Pond newsletter :: October 2010 :: #38
PETER POND HISTORICAL MARKER INSTALLED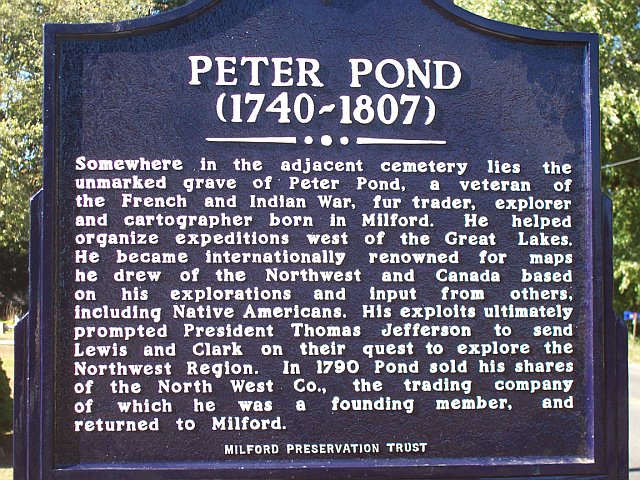 enlarge image
The Peter Pond historical marker, financed through Milford Preservation Trust, has been installed at the edge of Milford Cemetery for passers-by to see from Gulf Street. Please find two pictures, one of me next to the marker, another a tight view to better read the inscription. It is the second such marker made possible by MPT, and its president, Regina Cahill, says more are envisioned to be placed around town in the future. Regina says a formal installation ceremony will probably take place sometime soon. Thanks go to Regina and her group for making this possible as well as to the Milford Cemetery Commission for granting permission and cemetery superintendent Ray Scholl and his men for physically installing it. Both Regina and Ray are Peter Pond Society members.
For myself, all I know is that the marker is in the ground. I feel his burying place will never be found and that this is the next best thing, perhaps even better since it is so conspicuous. He is also installed in the Milford Hall of Fame, which you remember occurred in September 2009. I'm not sure what else there is to be said or what more I could do for the old guy. Maybe write a book. There have been so many of these newsletters that the sum of the output could perhaps qualify to be a book, though no money has been made. I've tried historical fiction, but publishers don't seem to be interested. As for non-fiction, there are actually two books in the works now on him, one by David Chapin that last I heard is nearing completion. The other is by someone who has sworn me to secrecy until it is published, whenever that may be. So all I can say at this point is that I will send out another newsletter when circumstances warrant.
COLOR PRINT OF PETER POND AVAILABLE
Illona Campbell, the artist who drew the rendering of Peter Pond that you see on my homepage, says she will sell full color prints for $30 each. Each print is suitable for framing, signed and numbered by the artist. The frame size is 9" x 12"; image size approximately 6 1/4" by 8 1/2". Illona may be reached through her email.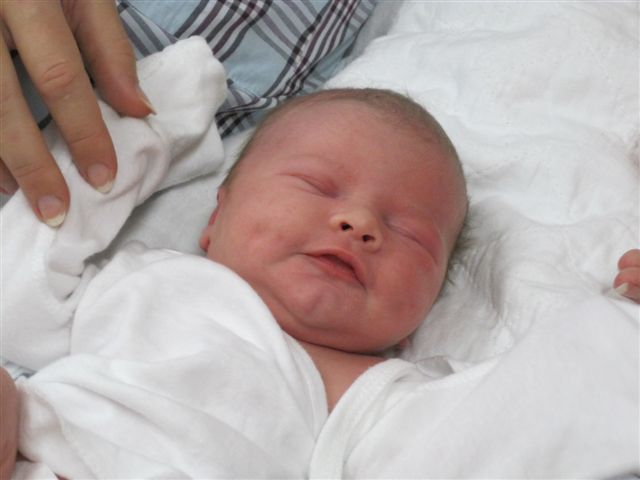 enlarge image
I'M A GRANDFATHER
Caleigh Maeve Glynn was born Sept. 12 at 4:12 p.m. weighing seven pounds one ounce in Milford Hospital. Baby, parents and grandparents are doing fine. She's my first grandchild. And so another milestone has been passed.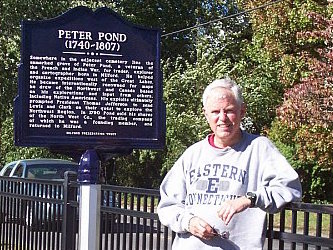 Au revoir,
Bill