Peter Pond newsletter :: May 2012 :: #37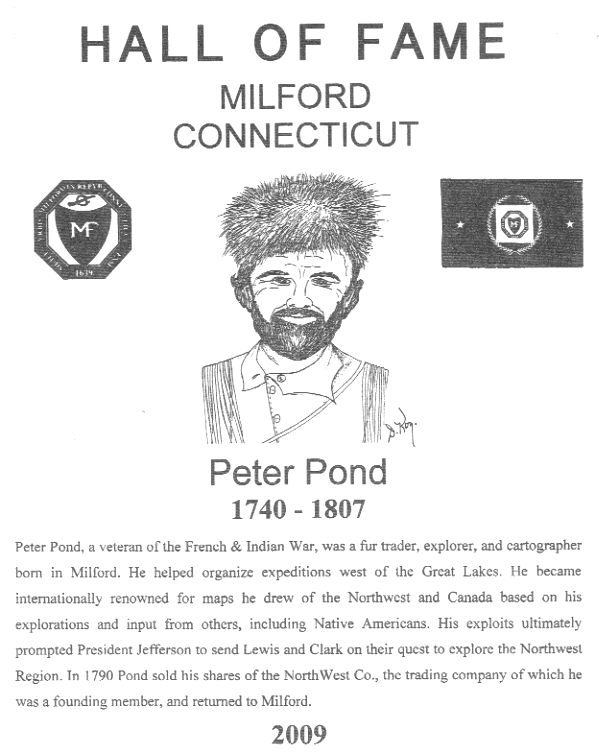 enlarge image
Peter Pond was inducted into the Milford Hall of Fame at ceremonies that took place Sept. 22, 2009. He was one of five prominent history makers of Milford who had that honor. It was the second annual induction so it is gratifying he was recognized so early along in the process. His Hall of Fame plaque is in one photo. Another photo shows Peter Pond Society members and their families who attended. Left to rights will be at the end of this message.
I suppose I could have told you about this earlier but I have been waiting for news of another honor in store for Peter Pond, having an historical marker for him installed next to Milford Cemetery. I was led to believe the permission would have been granted by the cemetery commission by the end of the year, but they just have not gotten around to it. The Milford Preservation Trust, an historical group, has offered to pay for the marker and install it at a spot next to the cemetery fence along a roadway for passing motorists to see. But permission is still needed from the cemetery commission since the designated spot is on their property. So that will come when it will come, and it the meantime you should know about his induction. The marker is so located since it says Peter Pond is buried somewhere in the cemetery but the exact location of his grave is unknown. Then the wording of the Hall of Fame plaque fills out the rest of it.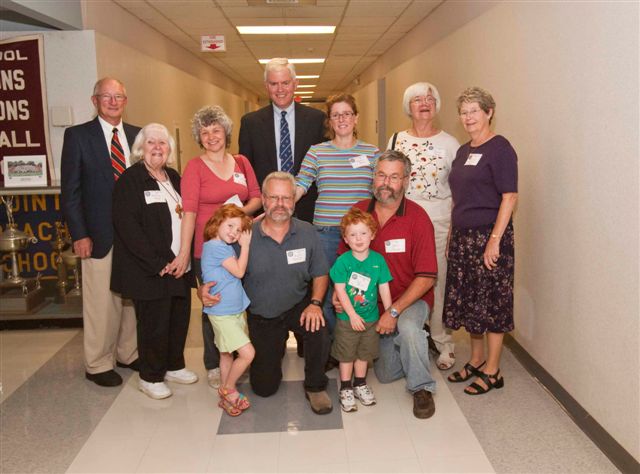 enlarge image
Those in photo at Hall of Fame induction are: left to right, front: Alice Pond, Old Saybrook, CT; her uncle Rich Pond, Torrington, CT; Peter Pond with his dad Dan Pond, both of Old Saybrook; rear: Bob Lenskold, Manchester, VT; Arlene Pond, Milford, CT; her daughter Carolyn Pond Stewart, Milford; Bill McDonald, Milford, Peter Pond Society president and founder; Gwen Pond, Old Saybrook; Judith Pond, Norwich, VT; and Elizabeth Pond Lenskold, Manchester, VT.
DAVID CHAPIN BOOK STATUS
Here is the latest from David Chapin, Peter Pond biographer, written March 15:
"The end of the book is in sight. I hope to start shopping it around to publishers in September. Right now the manuscript is over 400 pages, and most of it has gone through multiple drafts. I have a few more short chapters to write, mainly on his return to Milford after 1790, though I have not found much evidence of what he was doing toward the end of his life. Then I have some middle chapters to rework. I also have to work on adapting his maps so that they work as book illustration, which should be time consuming."
POND IN MUSEUM EXHIBIT ON FUR TRADE
David also mentioned a special exhibit on the Canadian Fur Trade at the Canadian Museum of Civilization in Gatineau, Quebec, across the river from the nation's capitol, Ottawa, running through the end of September. See this website where Peter Pond is cited among $the towering figures of Western Canadian exploration$:
Then go to other sections of the website from there.
I'll get that picture to you as soon as I have it.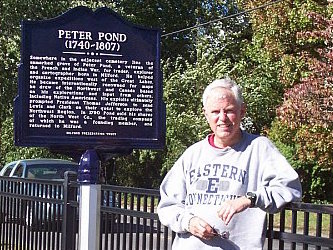 Au revoir,
Bill