Peter Pond newsletter :: December 2002 :: #15
END OF YEAR NEWS
Happy Holidays again.
I said in Peter Pond Society 14 that would probably be my last for the year unless events warranted another one. Well, they have. Nick Bellantoni, Connecticut State Archeologist, has forwarded me his proposal to conduct a dig in Milford Cemetery toward confirming the spot where Peter Pond is actually buried and giving him an appropriate identifying marker.
Without further ado:
ARCHAEOLOGICAL FIELDWORK PROPOSAL
PETER POND GRAVE SITE
MILFORD CEMETERY
MILFORD, CONNECTICUT
Introduction

Peter Pond has been a somewhat forgotten son of Milford and North American history. Yet, his contributions to the exploration of the American west were enormous. Although an important person in the story of the 18th century Canadian fur trade, Pond returned to Milford after being implicated in two murders in the northern wilds, and, lived out the remainder of this life in relative poverty. He died in Milford in 1807, though no tombstone has ever been located.
The Peter Pond Society has requested a search for his grave. Ground-penetrating radar (GPR) tests adjacent to the tombstone of his mother, Mary, have determined that possibly two unmarked burials lay next to her. While the GPR can establish soil disturbances indicative of burial shafts, it is unable to determine any personal identification of individuals within the grave. To determine if the unmarked grave(s) is that of Peter Pond would require archaeological exposure of the skeletal remains, coffin hardware, and other associated material culture.
Methodology
Archaeological fieldwork would consist of hand tools, including shovels, trowels, brushes and dental picks, to excavate to the depth of the burials and expose all skeletal remains and funerary materials. We anticipate that all soft tissue of the human remains would be decomposed, however, the hard bone elements should have preserved in varying states. Careful excavation should also reveal if the burial was placed in a wooden coffin, which may have brass tacks on the lid identifying the initials and age of death of the individual in the coffin.
First, the topsoil would be stripped off the area of the unmarked graves to delineate the outline of the burial shaft. The burial feature will produce mottled sediments, which are the result of soil shoveled through natural layers of soil coloration (i.e., topsoil and subsoil differences) and backfilled. That is, when a grave is backfilled, the sediment that was brought up while digging the burial shaft becomes mixed. Near-surface soils are generally stratified and variable in color. The variations are usually sufficiently distinct to permit ready identifications.
Once the burial shaft is located, excavation can proceed to the depth of the burial. Visual inspection and testing with a trowel or core should reveal the wooden coffin lid, often collapsed, or evidence of sideboards as soil shadows. As soon as coffin materials are detected, the remaining soil will be carefully removed with trowels and brushes to prevent any damage to human remains and burial artifacts. Recorded data will include the attitude of the body, positioning of arms and legs, forensic aspect of the skeleton, and designated bone measurements. Of course, this will vary based on the degree of organic preservation.
Our preference is not to remove any skeletal or coffin remains, but, to expose and record all available information. With family permission, a small sample of bone can be taken for DNA analysis. The burial will be covered up immediately upon investigation, and a report written.
We are confident that if enough coffin and skeletal material is preserved, we can obtain enough information to identify the individual and determine if it is Peter Pond. Forensic analysis of the skeleton in the ground can determine age, sex, pathology, trauma, degree of muscular development, and biological affiliation of the individual. Coffin remains may provide evidence of the time period, and, with luck the initials of the individual. Taken together, we should be able to determine if the remains are that of an adult male, 67 years of age, showing evidence of a hard, active lifestyle, and dying in the early 19th century. We would then be able to either eliminate, or, create a good probability for the burial being that of Peter Pond.
We estimate that the project can be completed with two to three working days, and, that we will be prepared to conduct the excavation in the spring/summer of 2003. As a result, security measures will have to be considered during the overnight hours. Our office will supply all hand equipment and students and volunteers. However, any technical assistance provided by the cemetery association and the society would be greatly appreciated.
Please feel free to contact me at the university should you have any questions. I would be more than pleased to come to Milford and meet with all interested parties and provide a presentation on our previous work in historic cemeteries.
Nicholas F. Bellantoni
Connecticut State Archaeologist
A copy of this proposal has already been forwarded to the Milford Cemetery Commission which is the only obstacle, so to speak, at this point with the project. I have permission to go ahead from a family member. I will keep everyone posted on developments. In the meantime, any comments are welcome
2. I have received my copy of the Clearwater River video documentary in time for Christmas. Nida Marji of Good Earth Ventures, the movie's producers, found my mention of the work in the August (Peter Pond Society 13) newsletter and saw fit through my website's guestbook to update information.
The current distributor is: McNabb and Connolly, 60 Briarwood Avenue, Port Credit, Ontario, CANADA L5G 3N6 Toll free telephone: 1-866-722-1522; locally 905-278-0566.
I called, gave a nice lady named Barb my master card number and it arrived in two weeks, cost: $24.95 plus $7 shipping, total: $31.95.
I might add, after opening the gift on Christmas Day and viewing, it's great, even though only 25 minutes long. The photography is spectacular and I certainly recognize many parts of the river from my 1988 trip. It's fascinating seeing an actor portray Peter Pond cruising along in a birch bark canoe even though for 30 seconds. It's also interesting that no more than 100 permits are allowed to cruise the length of the river each year. And at least one outfitter does it with rubber rafts, taking on some hairy portions that canoeists portage around. For example, there's a great sequence of a raft shooting through what we dubbed Dolomite Gorge in 1988 but I think is called Skull Canyon now, that spits them into a wide lagoon. I remember spending the night on a high bluff at the other end of the lagoon about a half mile away. The roar from the canyon all night sounded like a wind tunnel.
Recommended for all Peter Pond Society members.
Lewis and Clark update: a 40-minute IMAX documentary is set to premier Jan. 17, 2003. Jan. 18, 1803 was when Pres. Jefferson sent the formal request to Congress for funding and approval of the L&C Expedition. Apparently the L&C Bicentennial is to officially start Jan. 18 with a ceremony marking the request to Congress at Monticello, Jefferson's Virginia home. Jan. 18 is also Peter Pond's birthday.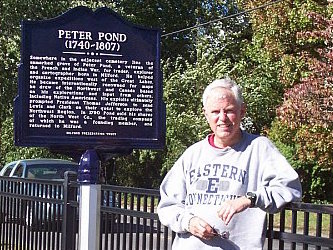 Au revoir,
Bill